by

Press Pause Radio
|
Posted on

Thursday, December 2, 2010
| |

1 Comment
The holiday shopping season is upon us! Festive advertisements are abundant, full of cheery-faced children playing with the latest toys and adults donning cheesy smiles and warm, fuzzy sweaters. Along with all the holiday hype, there's a slew of gimmicky gaming products on the market beckoning a place on your shopping list. Some are purely laughable but some perhaps have potential. Here's my breakdown of the best, worst, and strangest accessories the Wii has to offer.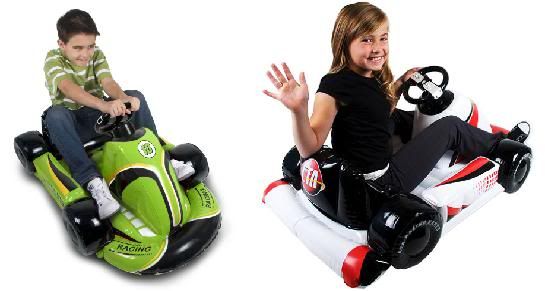 Inflatable Car
Price: $39.99 at www.toysrus.com
Rating: Awesome (if I was 10 years younger)

If the Wii Wheel wasn't enough to enlighten the racing game experience, CTA Digital has kicked it up a notch and added some superfluous inflatable fun to the mix. The inflatable go kart promises to bring all the fun of arcade gaming to your home console complete with a comfortable cushy seat, plastic steering wheel to house the Wiimote, and a stylish "sports car design". It boasts support for up to 300 pounds allowing even the adults to get in on the go kart fun.

Final Verdict: There's no way that even my short stubby legs would fit comfortably in that blow up seat, but it would make a nice gift for a little one with a big imagination.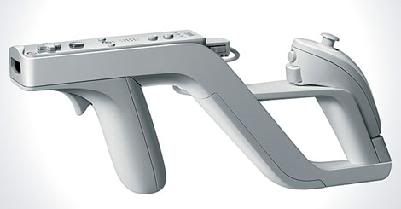 Wii Zapper
Price: $19.99 (with Link's Crossbow Training) at www.Amazon.com
Rating: The Crossed Arms of Indifference

It's debatable whether a plastic shell can actually amplify the interactivity of a game. But the Wii Zapper is Nintendo's official attempt at enhancing the Wii shooter experience by giving the player that legitimate trigger feeling. Unfortunately, it is mildly awkward to handle and has faced some control issues due to lack of comfortable access to the A button. Overall though, since it is bundled with Link's Crossbow Training, it may be worth the $20 price.

Final Verdict: Using my Wii Zapper to play Goldeneye felt like running around and aiming with an AK-47 strapped my ankle while looking through a periscope. The Zapper is definitely best suited for the on rails shooter experiences of games like Resident Evil: Umbrella Chronicles.
Slip Proof Wii Gloves
Price: $12.99 at www.Amazon.com
Rating: Intense

Do you ever have trouble keeping a firm grip on your Wiimote? Nope, me neither! But for all those butterfingered gamers out there that are deadly serious about their Wii gaming, the slip proof gloves by CTA Digital are guaranteed to improve remote handling while "providing ultimate comfort" and "allowing ventilation so your hands don't perspire". As stated on www.ctadigital.com, these gloves are even multipurpose - "they are also great for recreational activities like weight lifting, baseball batting, and anything else that requires a firm and secure grip..." I'll just leave that up to user's interpretation.

Final Verdict: This is the type of thing that this generation's Lucas Barton from The Wizard would have described as: "I love [my slip proof Wii gloves], they're so bad..."
Babysitting Mama Doll
Price: $49.99 (with game) at www.gamestop.com
Rating: Cutesy (except surgically implanting the Wii remote into the doll's spinal cord)

Obviously geared towards the younger female Wii audience, the Babysitting Mama doll is somewhere between adorable and creepy as hell. But with the pretty respectable Cooking Mama franchise behind it's creation, Babysitting Mama might just be the best out there for that particular audience. Unfortunately, that isn't saying much...

Final Verdict: On the bright side, it sure as hell beats Imagine: Babysitters, Imagine: Party Babyz, and Imagine: Babyz Fashion combined.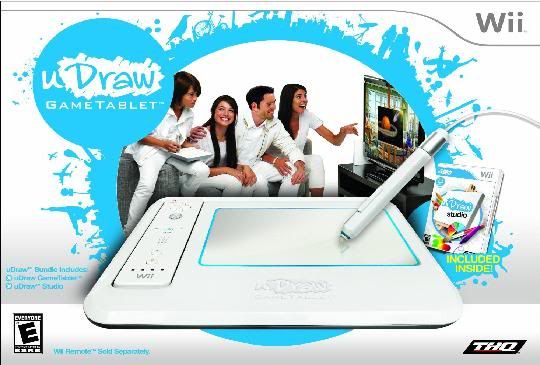 uDraw Game Tablet
Price: $69.99 (including uDraw Studio game) - $29.99 for additional games at www.Amazon.com
Rating: Potentially Nifty

I may be getting sucked into the horribly deceiving gimmick black hole, but the idea of a drawing tablet for the Wii actually sounds kind of fun. The THQ uDraw Game Tablet comes bundled with an "expansive drawing, coloring and art-based video game" called uDraw Studio. Several other titles are compatible with the tablet including a Pictionary game and a platformer called Dood's Big Adventure that plays similar to the DS's Drawn to Life. The price may be slightly steep, but with supposed planned future support for this peripheral, it may be worth the investment.

Final Verdict: If somebody doesn't hop on this and make a Mario Paint sequel, it will be a terrible shame.
Nintendo Wii Deluxe Gaming Ottoman
Price: $139.99 at www.Kohls.com
Rating: Elegant

And finally, after you've purchased all of your gaming peripherals, you'll need a snazzy place to store them! The Nintendo Wii Deluxe Gaming Ottoman can store up to 44 games, 4 Wii Remotes and nunchucks, and even your balance board. What better way to conceal your gaming gear than in "deep espresso" leather.

Final Verdict: It may set you back a good hundred bucks, but it nicely conceals the evidence so visitors will never know that you fancy playing Wii Fit in your underpants. Classy.


in

Articles