by

Press Pause Radio
|
Posted on

Thursday, September 16, 2010
| |

Post a Comment
Ok so I know this all seems very stupid & I possibly not even worth posting because of all the time that was spent with it not being posted & it being months after E3 but after the death of my PC & the fact that I thought that I both needed to post up those impressions & it gave me another chance to rewrite the impression I said "what the hell" & decided to write it all up yet again & recap on what good ol' Sony had in store us when E3 was high-lighting the future of the Playstation brand's ventures so let us begin with Jack Tretton glorifying his image on the stage introducing the Keynote.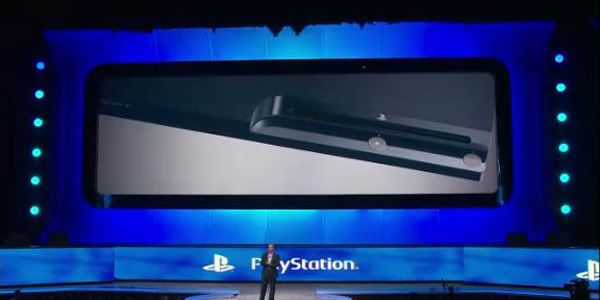 So as Jack Tretton walks out on stage, the first thing that Sony presents was not a presentation on a new game but Touting how it plans to be the number one platform in everything it can do, that it can the console that can be enjoyed for any member in the family where it can be both the Casual & hardcore gamer's console for video games & beyond as it wishes to become a leader in "interactive entertainment" which kind of introduced me back into the familiar ground where Sony need to indulge within transparent gloating but then Kazi Hirai came on to the stage & spoke of Sony planning to be the leader in 3D gaming...& well you all know how I exactly feel about that being as again there's next to little no market in 3D games as I have again & again mentioned low accessibility that it has to offer as well the ridiculous investment that comes along with admission of "3D" visuals of future home entertainment.The first game that they debuted with the gimmick of 3D was Killzone 3 which the producers came to explain that the game is considered a live demo version of what is still considered to be unfinished & they they were instructed to place their glasses upon their face & "immerse" themselves within the experience which to be fair, it's not something that you can accurately get an impression of from webvideo coverage off a PC monitor that doesn't support 3D imagery the way sony wanted me to experience it or the fact tht I didn't own a stupid fucking pair of glasses. From what I was able to witness in the demo in the fight against the Helghast. the action & Gameplay all seemed very tight & smooth which I would expect from the franchise but I again did not see the appeal of the possibility of the 3D. Granted again I was not there to truly experience it but I can damn sure point out that there was absolutely no real change or enhancement to the gameplay whatsoever, I mean I'm not one to downplay the importance of immersive visuals but the entire affair of 3D feeling like an extra gloss of paint with the possible investment of finances driving you to open up a second mortgage...I just don't personally see the appeal & even as non-biased gamer looking in, I will give it a chance if Sony looks to make this accessible but they're not known for that which is what again adds on to the trouble of this entire ordeal. As Killzone 3 demo then finished we were treated to a trailer of games that will be the lauch lineup for the Playstation 3 3D game line up with big titles being Kilzone 3, Gran Turismo 5, The Sly Collection, & Crysis 2 along with a slew of other with move support as well, got to hand it to Marketing on the flashy trailer for showing a montage of scenery & action that pimps out the 3D visuals only showcasing the flash over substance verdict I gave it during Killzone 3, though I have mention that "Brooklyn is Burning" By Head Automatica was an awesome decision by Sony PR but I'm a sucker for Daryl Palumbo so not much else to say there. Tretton then came back out on the stage & touted the history of Playstation being as it's upcoming 15th birthday (which recently took place now because again this is how late these fucking impressions are) & then Tretton finally spoke of Move, here's where Sony then shows off it's intention to innovate & deliver in Motion control for video games.

Peter Dille approached the stage & demonstrated the components & path of The Playstation Move in action since it's reveal earlier in 2010 along with final chosen name. as I began watch video, the big hook that Sony was promoting with Move is it's one to one precision, which in their subtle trash talk to the wii & it's games being able to just use waggle, I love how they didn't address how the Wii has already have games using the Motionplus enhancement which does the same thing, & then the huge emphasis on the Move wand sporting buttons...I went to go hold my Wiimote just to make absolute sure that I wasn't stupid & indeed confirmed that...the Wiimote also has buttons...four major ones & the then the - & + so I guess I'm missing something? The first game debuting Move came to be known as Sorcery, a very Harry Potter-esque game which seemed derivative in appearance, however the control display was quite immaculate & soon I was realizing the "one to one" ratio that Sony kept sublimably dropping & that there seemed to be no issues with the demonstration unlike the Motionplus display for Skyward Sword which was met some abysmal technical difficulties which I again complete acknowledge because of the wireless interference with the tech involved with the Wii but I soon began to witness what I wanted from motion control, an evolution beyond "waggle". Kinect may be innovative in theory but the terrible execution of both visible lag of response motion input & lack of response to me sitting down really ruins any interest I have in it.The sorcery game seemed interesting enough as well, I enjoyed the different movement they implemented within the power switching & the balance that was kept in mind to keep it fresh & innovative but not too complex enough to where it prevent any accessibility. Tiger Woods 11 was then demonstrated & then again I was impressed with the accuracy with Move, with the promise of Move being patched for certain games that you wouldn't expect it to come to like Heavy Rain, Socom 4, & Little Big Planet 2. The Braveheart speech from Kevin Butler was amusing but just more of the bloated advertisements that I have come to grow tired of. Bashing on the competition worked for Sega & no one else...it's the truth.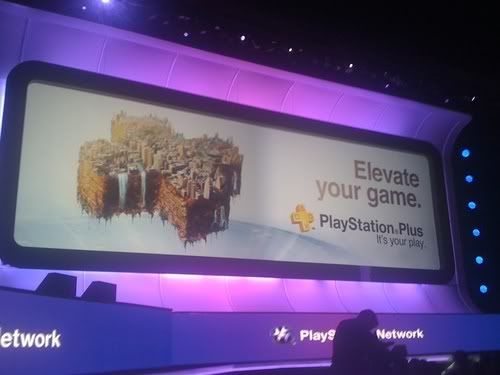 The PSP coverage came into play from this point with more of the pretentious advertisements I spoke of but with "Marcus Rivers" leading on about PSP will be the revolutionary platform to strive to come out on top & honestly, I do have faith in the PSP, but simply just to stick around & provide me games I can enjoy fitted for it over the DS which believe it or not but there has been such games. Like the success of the PSP however, so came the weak presentation of games seen available in the coming months from Sony & it's respective second parties & third party high-lights. So before I move on may all of the obscure & niche JRPG developers & publishers keep the PSP alive as they have given it one of it's few edges against the competition. Invisimals was the only thing that peaked my interest for what was offered in PSP software future, but this is 2010...cumbersome perpihal attachments for what is supposed to be my sleek all inclusive handheld just irks me off of this path as I feel we have come a long way since the Gameboy Camera. after some showcasing of numbers & feature of existing games that have been released already (Sony apparently missed the point of what exactly you should be showcasing at an E3 event?). Little Big Planet 2 then came into play & it really looked more of the same which isn't necessarily a bad thing as I enjoyed the experience I had with Little Big Planet but it's seriously so much more of the same, I would warrant what was showcased as a full blown sequel as nothing more then inflated DLC, the only thing I saw that was different enough to turn my head was mini-games, the game mechanic I have literally grown so tired of as it has been done beyond the point of saturation & is now blatantly annoying mind you unless it presents some thing so innovative that it justifies it's placement into the game in the first place. The long rumored Playstation premium online service was debuted as Playstation Plus. which after reviewing the benefits of service it sounds promising as it sounds with access to downloads of Minis & PSOne classics, none of it is yours to keep...it's just a glorified streaming service where you essentially rent with an monthly or annually content that will leave when you discontinue the service, as well as the fact that the playstation Plus doesn't enhance or otherwise improve existing online multiplayer lobbies like Uncharted 2 or Little Big Planet with extra moves or discounted DLC so, until I again get to try this service out (which is out & I have yet to try so) I'm not completely sold on this service & I'll have to play the wait game. I also enjoyed the Dead Space 2 surprise expose with inclusion of Dead Space extraction having Move Support was really refreshing, I hope that inclusions or similar tactics used in the future with PS3 releases being as Move & traditional control to where it's not forced down my throat like Kinect or Wii.

Last couple of big announcements that came about was Gabe Newell appearing on the stage to et all the crow he deserves to eat for all the animosity he shared with the Playstation 3 as a viable platform & then not only did he then come out announce Portal 2 being available on PS3 but he also announced that it will be considered the superior port amongst the other platform releases & then as he continue to explain that there will be a Steam service available exclusive on PSN that would steam cloud with Steam & PSN, very vague details but quite possibly the best thing going for Sony as they can provide the Steam experience through a console & helps those who have their PC's with the potency of prize found in a cereal box (me) & they can get in on an entirely different community from the same console & still participate in the same community of friends they've built on PSN which is awesome beyond imagination because again it really does add some weight to the goal of having the PS3 cater to everyone which I can honestly say I'm looking forward to. The last event was David Jaffe coming out to display more crow eating with all of the denials of the new Twisted Metal, with a very theatric display of Sweet Tooth driving out on stage in his Ice Cream truck, it made me smile to think that E3 was capturing back that old feeling it evoked.

So that's it, those all of my impressions, I apologize for how late this one came to be but again as you've heard on the show my computer died & went to Dinosaur hell, I had to perform several voodoo dances & animal sacrifices to pump my PC back into the land of the living & I have brought to you this last article, also I have the TGS impression write up real soon, thanks guys. again any comments or feedback? call the voicemail at 209-566-0190 or register on our forums & post on the TGS thread I posted. Thanks again guys, stay tuned for PPR#28 this weekend!
in

Articles